Fashion is a timeless question that always changes with time and evolution, rather weird or not, this is the style.
This strange fashion trend was introduced in Beijing, China as a way to keep the pollution out of the mouth and nose of the individuals. With the pollution level high and unpleasant in China many found it necessary that some sort of clothing or mask has to cover the face up. With this fashion trend, many people has found it essential for the mask to match or go along with the clothing that they are wearing. This fashion trend is very popular not only because of the pollution, but because of the style and flare that it gives the person. This is popular with both teens and adults alike!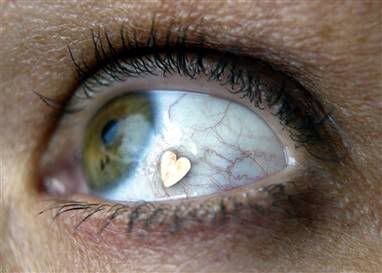 This strange yet very popular fashion is known all over the world. Its origination was first started in the Netherlands as a trend to show flare and beauty to their eyes. It first started as a procedure in the Netherlands Institute for Innovation Ocular Surgery (NIOS) for people to be able to change their eye appearance as a modification to their body. The procedure involves a shiny piece of platinum material molded into any shape and then implanted into the eye itself. The shape can visually been seen as the user opens and closes their eyes. This procedure usually cost around 1,000 USD dollars. Although known around the world it is currently only legal to get this eye modification in the Netherlands.

Nothing like a piece of Bling in your eye to show off some true strange fashion.
Even though fashions can be anything from clothing to body art or manipulation of the body in anyway, keeping these fashions can also be a fashion in itself. Time and time again, woman found it necessary to get a facial. This involves a good cleaning of the pores and cleansing of the skin. What about applying bird poop to your face? Fashion, I think so! This popular facial was founded by the Geisha Japanese girls. It involves applying bird poop mixed with rice bran ultra-violent light to the face to clean the talked about pores. This extremely strange fashion is known from Hollywood, California all the way to Japan, and normally cost around 180 USD dollars. Weird, OH YES!!
Often studied in history, Adolf Hitler was one of the world's prominent leaders stretching from Germany and all over most of the Middle East. In times past he was recognized as a world power, but more recognized as a cruel and ruthless person. With Nazi concentration camps, and the genocide of a whole culture, his legacy was left unparalleled for many. His face on the other hand is a rising fashion in Bangkok. His much recognized mustache only spawning two inches in size has taken over this large city. His gestures as a world leader "literally" the standing and arm straight out stance with hand in the air is also a trend for many people in the Bangkok area as well. With both of these weird actions, the stash has even went to the point of going on Ronald McDonald. Yes, I said Ronald McDonald a child icon here in the United States. With this weird fashion, we can see that Hitler might not be alive, but he could be making a comeback…..even form the grave. Weird, Yes Indeed!!