A child is so called "a blessing from the creator". It has been experienced throughout the ages by the guardians. In fact, every parent checks it down to the utmost and highest matter of security when it comes to their children. So when you picture your family,

traveling

along with your very own child, what is the first thing that strikes your mind? No need to mention, the safety of your child. And it was not so long before the 1930's that the automobile companies came up with the idea of so called baby car seat or booster seats. This is an extraordinary idea which came to the light due to need rather than being an innovative one. The most eye-catching sight of nowadays is the death rate all over the globe due to car accidents. And the most sheering fact of all is when you look at the statistics. It says nearly 1.3 million people die each year due to road crashes. Considering all such facts and figures and due to the dint of the 21st century's technological and ideological improvement child safety has now become an imperative issue all over the globe. So as it is, the baby car seat can be a very effective method of ensuring your child's safety. All around the globe, different governments like the USA, Canada, and Australia along with the European countries and others have institutionally recognized the compulsory use of baby car seat as a mean of child safety. So it is a crime not to use one for which legal actions can be taken against the particular individual.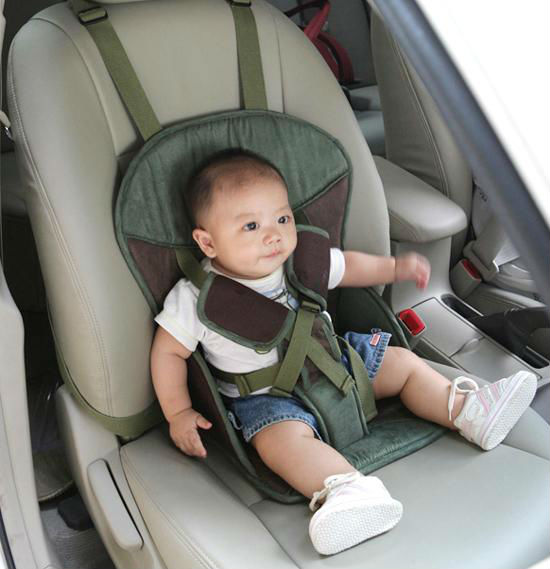 Now let us come to our point. A baby car seat is rather seen to be very common regardless of its description. Whenever you peep through a car window you might come to notice a mini seat in the middle of the main one. Yes, that's what we are talking about. And the man whom the credit is to be given to his incredible idea for baby car seat is Leonard Rivkin, of Denver, Colorado. It was in the year of 1962s when Rivkin came up with his bizarre idea of baby car seat. It's a seat, smaller in size, adjustable and specially modified to provide the necessary safety for your child. At the beginning similar kind of a seat was designed. But it was not solely intended for child safety and it was called booster seat. This was more of a seat which was at a higher level than the other passengers so that the child could feel the same as others. As mentioned earlier, it was later modified to a safety seat. It is noticed that accidents have been fatal to persons in the front seats. So it is best to keep your child in the back seat where he/she will be the safest. So, baby car seats have been designed to be at the back of your car. Your baby car seats that you see are made out of special fabrics and vinyl. As for the safety issues, it must qualify several tests before manufacturing. It must be able to absorb shocks of accidents tested at the speed of 30 mph/hr. Moreover the ingredients should be of fire resistive materials. With the vast advancement in the field of chemical engineering and industries, our requirements have been met duly. Its effect has been far greater than that we can ever imagine. So is the same in case of our product, baby car seat. A special polymer named polypropylene is used in the production of baby car seat. This type of plastic flexes under extreme circumstances that are included during car accidents. Due to its unique property of flexibility it differs in a wide range with other plastic materials which snap under the same circumstances. Other than these, some subsidiary components are buckle latch plates, strap adjusters, locking clips, and the buckles. These subsidiary components help in the process of getting hold of the grip of the child. Moreover the foams with which the seats are padded with are flame resistant and energy absorbent.
So let us now move further in details about your baby car seat. In order to get one must know what to demand. Our discussed products have been classified into diverse categories based on need. The categories have been prepared on three bases namely-
Position of the baby seat
The first one is Group 0. This group consists of all those infants weighing up to 13 kg (from birth) and aging less than 15 months from birth. The positions of such seats are rear facing and with no air bags. These are also Carrycots. So the infants, those unable to sit can lay down.
The second comes Group 0+. Children weighing up to 15 kg from birth (2-3kg) and aging up to 15 months are suitable for the use. The arrangement is of sitting with no air bags and facing the rear side.
The next group is Group 1. Children of 9 to 18 kg and aging from 9 months to 4 years are suitable for it. For such infants falling under this group, rear facing is usually recommended. But front facing can also be done.
Then, the Group 2 comes. This level has been given the liberty to the infants to seat either rear or front faced. They can weigh from 15 to 25 kg with an age limit of 4 to 6 years.
The last of the categories is Group 3. They can sit facing forward. Their age limits from 4 to 10 years and above with the weight limit of 22 to 36 kg.
The aforementioned groups play a vital role in the decision of choosing the appropriate baby car seats. Because, the weight limits are distributed after extensive testing. The ability to absorb unanticipated damage or shocks is majorly dependent on the weight limits of the baby car seats. For example, if one such baby car seat is purchased which is not enough to sustain the weight of the baby, then it will not serve the purpose. Again, if a Group 2 baby car seat is purchased for an underweight infant of Group 1, then the gripping capacity will be lesser (due to the large diameter of the carriage and the extra length of the seat belt). Eventually, it will not serve the purpose, too. Thus, procuring baby car seats according to the age and weight groups of the infants is a matter to be considered with due magnitude.
Comparing is an essential task, which is a must for someone who is buying a baby car seat. Performing a comparison between two products can help the customer to understand what features (pros and cons) are offered by the manufacturers. It will also help to judge a few other things, like quality, price range and the class of the products. Now, some areas where the comparison should be done (while purchasing a baby car seat) are-
A good price is an indicator of quality (in most cases). Qualitative baby car seats are available within an affordable price range. This price range usually varies from $100-$150. If a baby car seat is bought with a price which falls within this range, then it will certainly be of a high quality. In this case, a particular thing can be observed frequently and it is the differentiation of product quality within the products of the same price range (amongst different brands). This is where comparison plays its key role. If the products are compared properly before finalizing the purchase, then one is far more likely to get good results. So, for obtaining an affordable price range of the baby car seat, the comparison is to be done accordingly.
Comparison plays an important role to determine quality, too. Often, it can be seen that products (baby car seats) of the same price range can vary in quality. This change can usually be seen from brand to brand. If ample amount of comparison is done, then one can easily find the most suitable (in terms of quality) baby car seat.
It is apt for the customer to explore the features thoroughly before purchasing the baby car seat. Some brands may offer more features, but, within a reasonable price range. Comparison can help in this case. If a person (the customer) compares the features along with the prices, then he/she is likely to get a good product (with the suitable features) within an affordable price range. However, in this case, research work should be done online to find the product specifications. Amazon (
www.amazon.com
) and other retailing websites offer a large variety of baby car seats. The features are also highlighted properly and the prices are displayed accordingly. The information required to do the comparison can be gathered from such sites.
Some things are to be noted while carrying out a comparison between two or more products (in this case, baby car seats). They are-
Information which is relevant to the features, prices, brands etc are to be collected from the online retailing websites or from the respective brand websites.
The features will align with the price range. One cannot expect a product to be multi-featured but, of a lower cost. If you are willing to buy qualitative and durable baby car seats, then you are going to have to start with a high budget.
The pros and cons of different brands of baby car seats are to be observed carefully. They must have a balance. More cons than pros will never be appreciated by the customer.
Extra requirements should be considered during the comparison.
The features of the baby car seats are to be compared in unison with their respective prices.
So, if the above steps can be followed, then one is far more likely to achieve better results while purchasing a baby car seat.
Now, in terms of importance, comparing can be considered next to purchasing according to age and weight groups. Now, a considerable amount of reasons stand behind this phenomenon of comparing. Firstly, we all know that different families have different requirements. Some may ask for sturdy products/brands of baby car seats while others may have a want of cost-effective ones. All of it depends on constraints of the respective customers. For example, if someone wants such a brand which offers a variable range of cost effective baby car seats, then he/she must be ready to sacrifice the standard quality of the product. It happens so because at lower price ranges, the quality of the products becomes debatable. Again, if a person wants a well built product which is constructed with the finest materials, then he/she has to start looking at the higher price ranges. Secondly, the issue of extra demands by the parents can be mentioned. Some parents ask for additional modifications to the baby car seats to provide extra comfort to their babies or simply, to suit their personal choices. Some may demand such a baby car seat, which can be retrofitted to a pram. Again, others may ask for extra storage compartments for different items, like feeders, lotions, water pots etc. Comparison helps in this case, since different brands offer different features. Proper brand selection according to the requisites is vital in this case. Lastly, it can be said that comparison helps to judge the quality and features of the brands of baby car seats as per requirements. No one ever wants to wind up with the wrong class of such products. Everyone always expects the top quality but, within an affordable price range. In such cases, comparison can help the customer to evaluate the pros and cons of the baby car seats which are to be purchased by them. If the comparison is done accordingly, one can expect the purchased product to be of high quality (price matters in this case, too). Thus, we can only envisage how significant comparison is for the process of choosing a baby car seat!
As mentioned before, a baby car seat is an indispensible item for the transportation vehicle of any family which has infants. It is equally essential for both, the security and the comfort of the baby. It prevents the harms which are caused by aggressive movements (in a transportation vehicle). It also ensures maximum comfort for the vehicle, provided that it is bought after the required amount of researching and comparison. If it is installed in each and every of the vehicles (where it is required), then it would greatly diminish the number of infant accidents, thus trimming down the global infant mortality rate. So, for the transportation safety of the infants around the world, the parents are recommended to purchase and install baby car seats from the suitable brands.